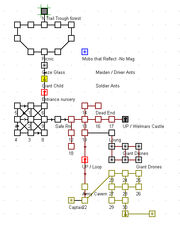 Area Designer:Edit
Labrat
Directions:Edit
3e2s2es sw ws (Midgaard East Gate)
A magnifying glass, "gaze glass" and your tank will engage the giant baby.
Story/History:Edit
Somewhere to the east of Midgaard, there have been rumors of giant ants raiding kitchens, pantries, and nurseries. Rumor has it that some of these ants are large enough to carry off a full grown troll!  So beware if you go searching for this hidden lair -- greater warriors than you have never returned!
Mobs of Note:Edit
Captain (Invasion Order), Ant Champion (), Queen ()
General Zone Strategies:Edit
The bulldog ants can see invis and in the dark.  The are aggro! and !calm, so don't let them gang up on you as they are resistant to magic. Move to the safe room (on the map) and leave a cleric.  Use the safe room to summon your big W as you work your way down to the Captain, the Queen and the Champion Ants below.
The Captain defends an !magic room.  He cannot see in the dark. Use creative summoning to take him down.  
The Champion is aggro! but can be debuffed by your invis, mirrored B30 runner.  Remove lights and be invisible to transverse the ant ranks.  Bring a naked big mage to curse/web, too!  He's got a bunch of HP, will toss and pzar and other area stuff.
The Queen, down from her Champion, is not aggro!, doesn't toss, has magic user procs, and has a billion HP.    Debuff her and be prepared for a long battle if you don't have a WK W27+ warrior.  Be sure to fumble her if you're going to double hit her down..
The Invasion Order (Captain) allows you to escape the Anthill via Castle Welmar.
Equipment:Edit
Captain's Insignia
Anthill
Captain
other
0
Invasion Order
Anthill
Captain of the Ant Army
trash
0
0
0
antenna, ant
Anthill
worker ant
trash
0
0
0
whip, slave driver's
Anthill
driver ant
weapon
5
!mctwps
4D5
12
2
2