About Me
[
]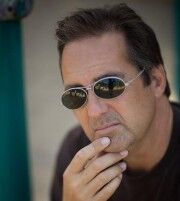 Dank Cysterian
[
]
I started playing Dank in the fall of 1993 when a couple undergrads told me about a text-based real-time Dungeons & Dragons role-playing game.  I was attending my first year of the USC MFA Film Program, and was working part-time in the Admissions Department with my old colleague, Deanna Easter.   Brett Web, a part-time work study, gave me the telnet host address and port at stimpy.psy.jhu.edu and told me not to play, or I'd be severely addicted.  (Another friend of Brett's had asked him to reset his JediMUD passwords to curtail his habit during finals week.)
I kept the address around in a notebook, and one weekend, a few months later, I tried it.  
I think I played jediMUD non-stop for three days.  This was the most popular era for MUDs, and frequently you found that the maximum game connects had been reached, forcing you to sit in queue, re-trying until a port came available.  Back in those days, before fiber connected the world, I used a 2400 baud dial-up modem to get to the university network and on to jhu.edu.
Because I had played the RPG The Bard's Tale a year earlier,  I chose Skara Brae as my hometown.  The first thing I did after gathering a bit of lowbie eq, was to march right up into the Greza Barge and promptly die.   LSD helped me get my lowbie crap back.
I remember hitting my first DT in the lion pit in Rome.  I kept going back down there thinking there was some high level mob that was killing me in a round.  
I picked up a KILLER flag when I bashed another newbie and killed him in the Midgaard Bank, which oddly was a PK zone.  Kailyn was kind enough to reset it.
Dank reached immortality at some point in mid-1994 and was blown away in the great pWipe that year. 
When the game came back, Dank came back as a cleric, hometown: Midgaard.  Buh-bye Greza Cruise Lines.
Wikia
[
]
Realizing that the entirety of JediMUD's culture and game strategy rests with its loyal player-base, I decided to create a wiki in order to draw from this valuable resource. Rather than rely on an understaffed (and underpaid) MUD admin, I felt that a team of loyal players could begin the herculean process of building a living testimony to the glory of JediMUD, its fond memories, strategies, and culture.
 
In the next several years, contributors like you will create a web document that will help novice and veteran navigate the world of JediMUD! If you would like to become a contributor to this project, please contact Vince at vincedeq@gmail.com.
Biographical Information
[
]
Vince holds a Bachelor's Degree in Fine Arts/Studio Art from the University of Southern California (Los Angeles), and a Master's Degree in Computer Animation in Film from the University of Southern California Film School.
After graduating from USC in 1995, Vince worked for over twenty years in the post-production film industry, with companies like Sony High Definition Television Center, Warner Brothers, RGA/LA, Industrial Light and Magic, The Orphanage, MatteWorld, 32Ten Studios and Athena Studios as a computer graphics technical director,  animator, CG Supervisor, Head of Studio,  and VFX Supervisor.
He completed his first independent VFX Supervisor role on the 2017 film "Lasso ,"
Vince joined Academia in 2004, hired as an online Animation and VFX Director at the Academy of Art University, San Francisco.  While there, Vince helped refine the animation and vfx curriculum, hire top professionals for full-time faculty positions, and created the successful VFX Producer Track.  His thesis project policy changes resulted in the first AAMPAS Student Academy Award for the University in 2011 for the animation short "Dragonboy."
Vince currently works as a set supervisor for Netflix productions in Northern California.  He resides with his wife Lindy in Marin County, CA. 

Gaming Career
[
]
Vince was introduced to board gaming at the University of Southern California in late 1977.   Beyond classic family board games like Risk, and Monopoly, college parlors offered the esoteric Diplomacy, War of the Roses, and M.A.R Barker's arcane RPG, Empire of the Petal Throne (TSR). ([1])  Soon thereafter, Vince discovered Gygax and Arnesons' Dungeons and Dragons, a Gygax revision of the 60's Chainmail series and TSR's most popular title.  
At the same time, Vince worked in the Engineer Computer Lab at the USC Engineering School, tearing paper and loading cards during the graveyard shift.  Though Vince was a Biology major, he was introduced to MIT's Zork and a PDP-10 (FortranIV) version of Adventure by his resident advisor, Henry Unger, who owned one of the first generation personal computers: a Sol 20 Terminal Computer with a cassette tape bootstrap loader.   In order to get a free computer account for continued free access to the games he discovered across the Arpanet, Vince applied for a position in the Lab.  
Though he changed his major to Fine Art in 1981, he continued to work in the growing computer industry, studying Fortran, Pascal and C programming.   After leaving the Engineerng Computer Lab for a telecommunications position with USC's Management Information Systems (a business division) he continued to take computing courses.   While at MIS, Vince learned to program in InfoBASIC, and he and a friend, Chris Searl collaborated on a port of the turn-based game, Rogue, to a Prime Mini-Computer.
 In 1984, through a friend in the School of Journalism and Television, he met Jon Van Caneghem, and worked on the traditional and computer artwork featured in Might and Magic I.
He left the gaming industry to get his MFA in Film and Animation in 1992, and while at USC, began to play a CircleMUD variant called JediMUD in 1993 ([2]). Vince has written several unpublished text-based MMO zones and has studied the brilliant implementations of master zone writer, G. Ruffini. Over a fifteen-year period, he logged more than a year-and-a-half of gameplay with fifty-odd characters at JediMUD, contributing nearly seven hundred posts to the MUD's online bulletin board at http://jedimud.proboards.com (as user Dank).
All-Time Favorite Games
[
]
1. Will Crowther and Don Wood's, ADVENTURE

2. Atari's, Asteroids

3. Avalon Hill's, Diplomacy

4. Midway's, Wizard of Wor

5. Cliff Zimmerman's, VTTREK

6. Infocom's, Zork

7. Glen Wichman, Michael Toy and Ken Arnold's, Rogue

8. Interplay's, A Bard's Tale

9. Cyan World's, Myst

10. Eidos', Tomb Raider

11. Bioware's, Neverwinter Nights

12. Bungie's, Halo

13. Activision's, Call of Duty Finest Hour

14. 2K Game's, Bioshock