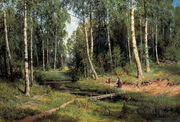 Zone Writer:
Edit
Raven and 

Chelliance

 1992.  Revised by Steppin and Doc of JediMUD 1998.
History/ Story:
Edit
The small coastal village of Weeden is home to many quaint fishermen and other denizens.  A protectorate of Midgaard and the realm of good King Welmar, it enjoys the security and peace provided by the beneficent ruler.  After journeying through the endless tracts of the great forest of Haon-Dor, a weary traveler can find succor at Tarle's Tavern, provender at the Harborside Restaurant, or further training from the skillful guildmaster and jack-of-all-trades Numinis.  Adventurers should be wary, however, of violent street thugs and a pesky dog that wanders the streets.  There are also sinister but as-yet unconfirmed rumors of an evil priesthood worshipping a hideous demon beneath the city's peaceful streets.  Should a group of brave adventurers dare the labrinyth under the city, information regarding this cult would be of great value to the village council.
Mobs of Note:
Edit
Helga, Tarle the Shopkeeper (!magic), Numinis, Bart, Portmaster (triptych piece), Jannie the Barmaid, fisherman, Black High Priest (old leather belt, triptych piece), White High Priest (triptych piece), Demon (crystalblade, triptych piece) black cultists and the minotaur (triptych piece).
Zone Strategies:
Edit
Weeden is a favorite of experience groups.  Use a Bard to debuff (slow, hopelessness, rage) each of the big mobs on the route  (Helga, Bart, Numinis and the Portmaster) and tank with at least -100AC.  Tarle (a shopkeeper) is in an !magic room, so you'll have to bash to initiate melee and rescue/summon out when low on HP.
There is a constructable quest (ivory triptych +wis/+int holdable) and a few pieces of gear worth the reset runs.
If you find yourself in the minotaur's maze, find you way out with the maps provided. Beware the deathtrap in the Weeden Town Square (revolting pit).
Equipment:
Edit
| | | | | | | | | | | | | | | | | | | | | | | | | | | | | | | | | | | |
| --- | --- | --- | --- | --- | --- | --- | --- | --- | --- | --- | --- | --- | --- | --- | --- | --- | --- | --- | --- | --- | --- | --- | --- | --- | --- | --- | --- | --- | --- | --- | --- | --- | --- | --- |
| ITEM | ZONE | LOAD % | MOB | MOB HP | HR | AC | TYPE | L | ML | CLASS | TAGS | AL | AC | AVG | SAC | ACM | HIT | DAM | STR | INT | WIS | DEX | CON | CHA | MOV | SS | OTH | HP | MAN | REG HP | REG MN | REG MV | CONSTRUCTIBLE | COMMENTS |
| axe, two-handed battle | Weeden | | minotaur | | | | weapon | | 10 | !mctns | | | 5D2 | 8 | 0 | | | | | | | | | | | | | | | | | | | |
| axe, two-headed | Weeden | | minotaur | | | | weapon | | 10 | !mctns | | | 5D4 | 13 | 4 | | 2 | 2 | | | | | | | | | | | | | | | | enchantable |
| belt, old leather | Weeden | | black high priest | | | | waist | | 0 | | | | 0 | | 2 | | | | 1 | | 1 | | | | | | | | | | | | | |
| blue | Weeden | | demon | | | | owand | | 0 | | | | 0 | | 0 | | | | | | | | | | | | | | | | | | | 5 x color spray |
| crystalblade | Weeden | | demon | | | | weapon | | 0 | | !drop | !g | 3D6 | 11 | 4 | | 2 | 2 | | | | | | | | | | | | | | | | perma armor |
| dagger, ceremonial | Weeden | | white high priest | | | | weapon | | 0 | !c | | g! | 3D5 | 9 | 4 | | 2 | 2 | | | | | | | | | | | | | | | | |
| fishing pole, primitive | Weeden | | fisherman | | | | other | | 0 | | | | 0 | | 0 | | | | | | | | | | | | | | | | | | | |
| gauntlets, silvery | Weeden | | troubadour | | | | hand | L | 15 | b! | | !e | 4 | | 2 | | | 1 | 1 | | | | | | | | | | | | | | | |
| letter from Prosper | Weeden | | demon | | | | note | | 0 | | | | 0 | | 0 | | | | | | | | | | | | | | | | | | | |
| nightblack | Weeden | | black high priest | | | | potion | | 0 | | | | 0 | | 0 | | | | | | | | | | | | | | | | | | trump of shadows | 3 x harm |
| nihaoma | Weeden | | black high priest | | | | scroll | | 0 | | | | 0 | | 0 | | | | | | | | | | | | | | | | | | | 2 x cause light, create food |
| transparent | Weeden | | black high priest | | | | potion | | 0 | | | | 0 | | 0 | | | | | | | | | | | | | | | | | | | det align, magic, poison |
| triptych, center panel | Weeden | | demon | | | | device | | 0 | | | | 0 | | 0 | | | | | | | | | | | | | | | | | | triptych | |
| triptych, left panel | Weeden | | black high priest | | | | device | | 0 | | | | 0 | | 0 | | | | | | | | | | | | | | | | | | triptych | |
| triptych, middle panel | Weeden | | white high priest | | | | device | | 0 | | | | 0 | | 0 | | | | | | | | | | | | | | | | | | triptych | |
| triptych, right panel | Weeden | | minotaur | | | | device | | 0 | | | | 0 | | 0 | | | | | | | | | | | | | | | | | | triptych | |
| uniform, black leather | Weeden | | town guard | | | | body | | 0 | | | | 36 | | 0 | -6 | | | | | | | | | | -3 | | | | | | | | best enchant |
| wedding ring, slender golden | Weeden | | fisherman | | | | device | | 0 | | !take | | 0 | | 0 | | | | | | | | | | | | | | | | | | | |